Ginger is a very commonly used spice in numerous recipes across the globe. This dietary condiment is an essential ingredient in many Indian and Chinese dishes.
It is used in various forms such as fresh, dried ground and, crystallized.
Besides cooking, the phenolic compounds in ginger offer several health benefits and use in medications. Ginger has been used for thousands of years as a medicinal herb to treat a variety of ailments.
When it comes to cooking, it goes well with both savory and sweet dishes and candies.
You should always have ginger on your kitchen shelf as it is a must-have ingredient in many recipes.
If you don't have ginger or cooking for people allergic to ginger, don't worry. Here we are going to list you some of the best ginger substitutes that work well.
Fresh Ginger Root Substitutes
Fresh ginger roots are most commonly used in cooking.
The best substitute for fresh ginger is dry and ground ginger roots. Remember ground ginger is highly concentrated, and you need to use only ¼ teaspoon of ground ginger for every tablespoon of fresh ginger.
But if ginger in any form isn't available to you then you have to look for other replacements.
Here are some of the best alternatives to fresh ginger.
1. Allspice
Allspice, a common ingredient in Caribbean recipes, is a fantastic substitute for ginger.
This spice is the ground form of the dried unripe berry of the P. dioica plant. It is also known as Jamaican pepper.
It has a mild sweet-spicy flavor similar to ginger, cloves, cinnamon, and nutmeg. The spice got the name 'allspice' as it has the flavor of a blend of spices.
You can use it as a replacement for ginger in meat dishes, stews, and soups. It also works well in vegetable dishes made of carrots, squash, cabbage, or spinach.
You can use allspice instead of both dried and fresh ginger.
Use half a teaspoon of allspice in place of every one tablespoon of fresh ginger.
2. Mace
Mace is the lacy coating on the outer side of the nutmeg seeds.  It has a more delicate flavor than the nutmeg spice.
It is a wonderful ginger substitute because of its warm and sweet aromatic flavor.
Mace works as a good replacement for ginger, particularly when used in sweet and baked goods.
You can swap ginger with mace in fatty recipes like cheese, and eggs. It also pairs well with vegetable dishes like carrots, cabbage, asparagus, and beans.
While you use it in place of ginger, use it in a 1:1 substitute.
3. Cinnamon
Edible cinnamon spice is the dried inner bark of the cinnamon tree. It is available in most grocery stores in sticks and powder forms.
Cinnamon has a warm and sweet flavor which is a lot similar to ginger.
Therefore, when there is an unavailability of ginger, cinnamon can be an awesome substitute.
Cinnamon is commonly used in many Indian savory dishes of both vegetables and meat.
You can use about ¼ teaspoon of cinnamon powder in place of every tablespoon of fresh ginger.  In savory dishes, use 5 grams of the stick instead of a tablespoon of fresh ginger.
2. Nutmeg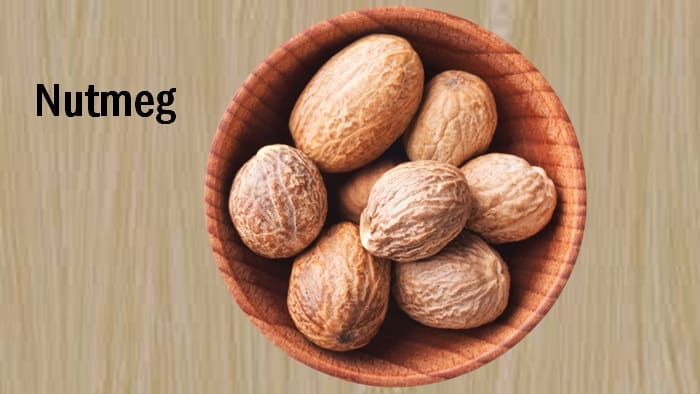 The warm and spicy-sweet flavor of Nutmeg seed is quite identical to ginger.
Mostly, the fresh nutmeg seed in ground form is used in dishes that call for ginger or nutmeg flavor.
Nutmeg fits well for both sweet and savory dishes. Adding nutmeg into vegetarian dishes like cabbage, broccoli, spinach, and squash elevates the taste and flavor. It's a nice ingredient in lamb meat, sausages, and pasta.
Use ground or grated nutmeg to replace ginger in the same quantity as allspice.
Ground Ginger Substitute
Ground dry ginger is a popular spice ingredient in many recipes.
Undoubtedly, the first and best replacement for ground ginger is fresh ginger roots.  Use about 1 tablespoon for grated fresh ginger for every ¼ teaspoon of ground ginger.
Other alternatives to grounds ginger are:
Allspice
Cinnamon
Mace
Nutmeg
Cardamom
Try to use the right substitute option that matches the desired flavor of the recipe. In the same way, it is also not necessary to add the same amount of substituting spice as the ground ginger.
Crystallized Ginger Substitute
Crystallized ginger is fresh ginger that has been cooked in sugar water and rolled in sugar. It's also known in other names like candied or glace ginger.
Crystallized ginger is a tasty treat available in most grocery stores. Not only that, but it's also an ages-old home remedy used to treat nausea, inflammation, and even certain cancers.
Glace ginger is not so useful in cooking but it may be included in the restaurant menu.
If your recipe or menu calls for crystallized ginger, you can use ground ginger instead. Use ¼ teaspoon of ground ginger for every tablespoon of crystallized ginger. You may add sugar to the ground ginger to achieve a sweet flavor.
The Bottom Line
Ginger has a very specific flavor and if you substitute it will not be the same. However, some of the closest substitutes for ginger are allspice, cardamom, mace, cinnamon, and nutmeg.
The best alternative to fresh ginger is the ginger powder or ginger paste that you get from grocery shops.