You may not find any adults who have not experienced back pain at some time or often. Especially, lower back pain is common among those who do long hours of work by sitting.
Back pain can be a sudden sharp pain or an excruciating and nagging ache that stays on for a couple of days. Some people get severe back pain accompanied by stiffness and immovability.  Unfortunately, those with serious spine issues suffer back pain perennially.
The causes of backaches are many, such as aging, injured backbone, overweight, frequent sitting, arthritis, bone cancer, slipped disc, strained muscles, and backbones, erosion of backbone, calcium deficiency, or other chronic diseases affecting the backbones.
Here are some of the common types of backaches:
Fibrositis
Spondylosis
Lumbago (lower back pain)
Arthritis
Injuries to the spinal cord
Curvature of the spine (scoliosis)
Slipped discs
Sciatica (lower back and legs)
Kidney issues
General tension/weakness
The treatments for pains related to the back are done according to their causes. Ayurvedic massages, oil therapies, aromatherapy, and cold or hot compresses are some of the natural remedies for alleviating pain.
Essential oil-based treatments are effective in reducing backaches.
In this post, you are going to read about the best essential oils for back pains that are worth trying.  Fortunately, EOs are natural and safe without any side effects, unlike prescription medicines.
9 Essential Oils For Back Pain
If you are suffering from backaches, you are certainly aware of the difficulties in living with tormenting pain. It is just nasty and bothersome pain that pulls you back from your work and devoid you of a pleasant life.
There are many natural remedies you can try for pain relief. Of all the natural remedies, essential oils are one of the best options you can choose for pain relief. There are many EOs to choose from; I have handpicked 9 of the most effective oils that can give relief from backaches.
1. Ginger Essential Oil
The ginger oil contains an active pain relief compound known as gingerol, the substance that gives a pungent taste and smell to the Ginger.
Ginger oil is traditionally used in natural remedies for treating backaches and inflammation in the spinal cords.
A few of the studies have reported the effectiveness of ginger rhizomes as an analgesic and anti-inflammatory agent that can relieve pains including backaches.
These study reports further suggest that even the prolonged usage of ginger oil does not produce any adverse effects on health.
Ginger Oil Blend
It is best when mixed with chamomile oil. Blend 5 drops of ginger oil and 3 drops of Chamomile oil in 10 ml Jojoba Oil. Gently massage the oil blend on the back; preferably you can get a hot compress on your back 15 minutes after the oil massage.
2. Lavender Essential Oil
Lavender oil is known for its numerous health and therapeutic benefits. It is the most precious of all the essential oils.
It is an age-old folklore natural medicine used for stress relief, sedation, and pain relief.
The lavender essential oil contains analgesic and anti-inflammatory properties which are useful for relieving pain.
One of the 2004 studies tested the efficacy of using lavender oil and acupressure in treating acute lower back pain. The study results showed that patients who used both acupressure and lavender together had the best results in relieving pain.
Lavender Oil Blend
Make an oil blend consisting of Lavender Oil (4 drops), Rosemary Oil (5 drops), Juniper Oil (6 Drops), and 1 ounce of Almond Oil. Massage the oil blend on the back three times a day for one week.
3. Chamomile Essential Oil
Chamomile essential oil is a time-tested and proven natural remedy for fighting inflammation, pain, and swelling. This oil is loaded with terpenoids and flavonoids which are beneficial for the reduction of pain and improving blood circulation.
One of the research reports by Molecular Medicine Reports, Chamomile oil is expected to remove the discomfort arising from pains, injuries, and spasms.
Chamomile Oil Blend
Make an oil blend consisting of Chamomile oil (5 drops), Cinnamon oil (3 drops), and Coconut Oil (15ml). Thoroughly blend the oils and massage the inflamed and painful areas of the back twice daily and continue till the pain is fully relieved.
4. Eucalyptus Essential Oil
Eucalyptus essential oil produces a cooling, warming, and soothing effect on the skin and muscles. The strong anti-inflammatory properties in Eucalyptus oil helps to reduce pain and swelling.
When the strong anti-inflammatory properties in Eucalyptus oil is combined with analgesic properties present in other oils, making it effective in relieving stiffness and pain.
According to a research report published in the African Journals Online, eucalyptus oil has proven the ability to reduce pain because of its strong anti-inflammatory power.
Eucalyptus Oil Blend
Blend Eucalyptus oil (4 drops), Lavender Oil (3 drops), Peppermint Oil (3 drops), and 2 tablespoons of Almond Oil. Apply these oils blended on the strained and inflamed back to achieve relief from pain, repeat the application twice a day.
5. Rosemary Essential Oil
Traditionally, Rosemary essential oil is extensively used in natural remedies for wounds, eczema, colic, and dysmenorrhea. It is also one of the oils chiefly used for alleviating pain and inflammation.
A study that appeared in the Psychosomatic Medicine Journal has shown the effectiveness of Rosemary oil aromatherapy for pain relief.
Some of the animal studies suggest that the analgesic, antinociceptive and anti-inflammatory elements in this oil may be good for alleviating back pain.
Rosemary Oil Aromatherapy
Use a diffuser or directly inhale the scent of Rosemary Oil to relax the mind and sensory nerves that produce pain sensation.
6. Peppermint Essential Oil
Peppermint Oil is known for its cooling effect and refreshing smell. It contains a substance called menthol that creates a cooling sensation on the skin and soothes the aching areas of the body.
Menthol present in the Peppermint oil is also an analgesic and antinociceptive property that has a direct impact on relieving pain.
Peppermint oil is efficient in blocking the pain signals to the brain to some extent; this helps in reducing the severity of the pain.
Peppermint Oil Blend
Make oils blend consisting of Peppermint Oil (6 drops), Eucalyptus oil (4 drops), Marjoram oil (4 drops), and Olive oil (1 ounce). Massage the oil mixture on the aching back to get relief from the pain, repeat the treatment twice a day.
7. Frankincense Essential Oil
Frankincense is a popularly used traditional remedy for muscle and lower back pain.
Going by some of the recent study findings, this oil has proven the ability to alleviate pain and suppress inflammation. This oil has analgesic and sedative properties that help in lessening the pain.
Many of the traditional recipes for treating rheumatism and joint pains usually have Frankincense essential oil as one of the usual ingredients in them.
Frankincense Oil Blend
Make a blend of Frankincense oil (4 drops), Lavender Oil (3 drops), and 2 tablespoons of coconut oil. Use this oil blend to massage your back twice daily to relieve pain and stiffness.
8. Thyme Essential Oil
Thyme oil is a potent therapeutic oil that contains analgesic and anti-inflammatory ingredients that can effectively reduce pain and inflammation. This oil is commonly used in several herbal remedies for pain relief.
Some of the studies also have shown the efficacy of thyme oil to function as an antinociceptive to block the pain signals to the brain.
This oil also produces excellent muscle-relaxing results that would help in relieving painful stiffness on the back and spine.
Thyme Oil Blend
You can make a mixture of Thyme Oil (5 Drops), Peppermint Oil (4 Drops), Lavender Oil (3 Drops), and 2 tablespoons of olive oil. Apply the oil blend on the back twice daily to get relief from back pain.
9. Clary Sage Essential Oil
Clary Sage essential oil possesses immense therapeutic value. Some of the properties in this oil such as sedative, antispasmodic, astringent, and nervine can be beneficial for alleviating back pain.
Many of the natural remedies available for back pain contain Clary oil as an important ingredient.
Clary Oil Bath Therapy
Having a Clary Sage oil bath is best for relieving back pain. Fill your bathtub with warm water and add 30 drops of Clary Sage oil to it; then soak your body in the water for 20 minutes.
Other Essential Oils For Lower Back Pain
Besides the 9 Essential Oils we have discussed, there are many other essential oils that also have pain relief substances.
Anise
Peruvian Balsam
Yarrow
Cypress
Clove
Fennel
Niaouli
Geranium
Nutmeg
Thyme
Chamomile
Camphor
Vetiver
Marjoram
Angelica
Benzoin
Juniper
Oregano
Sage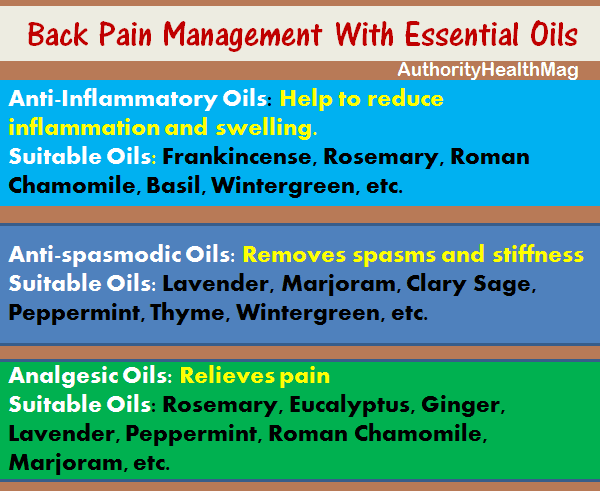 The Bottom Line
Back pain is absolutely troublesome and a big botheration for anyone. Most of the regular medications have their side effects; they are expensive too.
It is worth trying essential oils for getting relief from back pain. It is soothing and comforting to the body without the side effects.
Essential oils may not give you a complete and permanent solution to your aching back, but they can certainly reduce the severity of pain and make you feel at ease.
You must be continuously learning more about your particular health conditions to improvise precautionary measures to stop the back pain.