Most people with thin hair or alopecia issues are often worried about how to get thicker hair. If you are one of them, you should take a serious note of the hair thickening tips in this article.
Thicker and fuller hairs make a person look young and beautiful. But balding or thinning of hair has become an agonizing problem for many today, especially for people who are in their mid-ages or youthhood.
The climatic conditions and genetic factors influence the natural thickness and volume of hair. As a general characteristic, the hair tends to be thinner for people living in colder climates and thicker in warm tropical regions.
The word "thickening of hair" is a bit confusing per se. It would either mean a person with a hair loss problem who wants to add extra volume and fuller hair by growing more strands, or a person with very soft and thin hairs who want to artificially and instantly create volume, thickness, and texture to hair for style's sake.
In this article, we shall discuss both; natural hair growth remedies for making your hair thicker and makeup tips on adding temporary thickness and volume to the hair.
9 DIY Solutions To Make Hair Thicker
The power of purely natural medicines is amazing, especially in hair and skin care treatments.
Most men and women alike are aware of the bitter side effects of chemical treatments for hair growth and hair fall. Many have adopted simple home remedies as an answer to the question, 'how to thicken hair'.
Chemical-based treatments give faster results, but the long-term side effects are terrible. In this scenario, it is safe and healthy to grow thicker hair with proven natural remedies.
Here, let me present you with the best ways to get thicker hair with simple natural products which are less expensive and safe to use.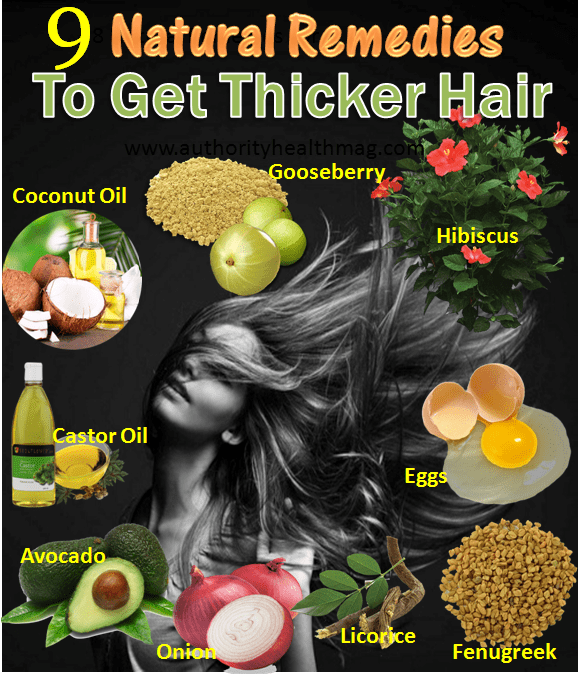 1. Castor Oil Scalp Massage
Castor oil contains natural antibacterial and antifungal properties and hair growth nutrients like proteins, Omega 6 and 9 fatty acids, Vitamin E, and minerals. The high amount of ricinoleic acid present in this oil is a good nutrient for the faster growth of hair.
The high viscosity nature of this oil forms a protective coating around the strands and prevents hair fall arising out of external factors like pollutants, dust, and UV rays. The viscosity of the oil gives thickness and adds volume to the hair.
Regularly massaging your scalp and hair with cold-pressed castor oil is a great natural remedy for growing thicker hair. You can rinse off the oil application after one hour.
It is better to make a mixture of 1 tablespoon of each castor oil and coconut oil and apply it to hair for better results.
You can read more on castor oil for hair in another post: "Does Castor Oil For Hair Growth Really Work?"
2. Eggs Mask Protein Treatment For Hair
A protein treatment is exceptionally beneficial to make your hair thicker and longer.
The egg is rich in protein and lipid fat. The egg mask treatment on hair provides the hair follicles with a high amount of protein required for the nourishment of hair.
The viscosity nature of egg whites also forms a thick coating around the hair strands to add instant thickness, volume, and shine to the hair.
Depending upon the length of the hair, take one or two eggs and beat it thoroughly.  Then make your hair partially wet and apply the beaten egg on the scalp and hair.
Another option is to add a tablespoon of coconut oil or castor oil and add 2 tablespoons of warm water into the beaten egg; apply this mixture as a mask on your hair and scalp.
You can rinse the hair with lukewarm water and mild natural shampoo about 1 hour after the egg mask treatment. For best results, do this treatment once in 3 days.
3. Coconut Oil Treatment For Hair
If you ask anyone how to thicken your hair, the most common answer to the question will be 'use coconut oil.'
Coconut oil treatment, just like castor oil, is a very popular and age-old solution to the growth and styling of hair.
The proteins and fatty acids present in coconut oil are excellent for the growth and protection of hair.
You can massage your hair and scalp daily with coconut oil; do not rinse your hair at least for 30 minutes after the application of this oil. Do this simple treatment daily for the best results.
You can read more on coconut oil for hair in another article "Does Coconut Oil For Hair Growth And Hair Treatments Work?'
4. Fenugreek Seeds' (Methi) Paste For Hair
Fenugreek seeds are rich sources of protein, iron, nicotinic acid, potassium, and lecithin. All these nutrients are beneficial for thicker hair growth, prevention of hair fall, and stopping premature graying of hair.
You can soak 3 tablespoons of fenugreek seeds in water for eight hours. Grind the soaked seeds till they turn into a thin-consistency paste. Then gently massage the fenugreek seeds paste on the scalp and hair; rinse the hair after 30 minutes with lukewarm water. For best results, this treatment could be repeated once or twice a week.
It is also good to rinse the hair with the water that the fenugreek seeds soaked overnight. This is very effective for getting rid of dandruff and other fungal infection on the scalp.
5. Indian Gooseberry Hair Treatment
Indian gooseberry is a rich source of natural anti-inflammatory, antioxidant, antibacterial, and exfoliating properties. Gooseberry also contains essential vitamins and nutrients good for increased hair growth and protection.
Take 2 tablespoons of coconut oil and mix 1 tablespoon of Indian gooseberry or amla powder and heat it until boiling. Strain the oil into a bowl and allow it to cool down. Massage this oil on the scalp and hair and rinse the hair after 1 hour in lukewarm water with a mild shampoo. If possible, allow the oil to stay in your hair overnight and rinse the hair in the morning. This treatment should be repeated twice a week for the best hair growth results.
For a second option, take 30 grams of Indian gooseberry powder and knead it into a paste by adding the required amount of hot water. Massage the paste on the scalp and hair; rinse it off from the hair with water after 30 minutes.
Daily drinking a glass of Indian gooseberry juice is also excellent for healthy skin and hair.
6. Avocado Mask Treatment For Hair
Avocado is considered to be a superfood that has several health benefits. Avocado contains a good amount of hair growth nutrients such as Vitamin E, Potassium, Iron, Folate/Folic Acid, Pantothenic Acid, Pyridoxine, etc.
Eating one avocado fruit daily is significantly beneficial for the healthy growth of thick and long hair.
External application of mashed avocado paste as a hair mask helps in moisturizing and adding volume to the hair.
You can make a mixture of one mashed avocado, one mashed banana, and 1 teaspoon of olive oil. Apply this paste on your scalp and hair; rinse the hair with water after 30 minutes.
As a natural hair moisturizer, you can make a hair mask with 1 mashed avocado fruit mixed with two tablespoons of wheat-germ oil. Rinse the hair with water and mild shampoo after 30 minutes of doing this hair mask treatment on your hair.
7. Onion Juice Hair Treatment
Onion juice is a perfect solution for your quest on how to get thick hair.
Major hair growth nutrients like biotin, Vitamin B6, potassium, and folic acid are substantially present in the onion. Both consumption of onion in diet and external application of onion juice on the scalp is beneficial for the prevention of hair fall and premature graying and accelerated hair growth.
Sulfur in onion juice activates the blood vessels in the follicles that help in increased blood flow and improved supply of hair growth nutrients to the follicles.  Sulfur also boosts collagen production in the hair roots that help in the faster growth of thick and dark hair.
Take two or 3 red onions and with the help of a 'juice crusher' extract the juice from the onions. Apply the onion juice on the scalp and then rinse the hair with water and good shampoo after 20 minutes of the treatment.
8. Licorice Herbal Treatment For Thicker Hair
Licorice herb is a very common ingredient in most natural home remedies for hair loss. The licorice root powder is well known for its hair growth-boosting power from the ancient Egyptian herbal treatment system.
Licorice herb contains unique medicinal properties that can provide a soothing effect to the dry and irritated skin and scalp. This helps to open up the pores on the scalp to allow the constant oxygen supply and nutrients to reach the hair follicles.
Mix 2 tablespoons of Licorice root powder and a pinch of saffron into 4 tablespoons of coconut milk or goat milk. Apply the resultant paste on the scalp; you can either leave the paste to stay on the scalp overnight or wash the hair and scalp after 2 hours of doing this mask treatment.
Repeat this treatment at least 3 times a week for best results.
9. Hibiscus Mask For Hair Thickening
Hibiscus shampoo, hair conditioner, and hair masks are the most popular hair treatments in use since ancient times. Despite the advent of sophisticated hair care products, hibiscus herbal remedies remain very popular.
Hibiscus herb helps in hair growth, stoppage of hair fall, moisturizes hair, and adds shine and volume to hair.
A mixture of hibiscus and curry leaves goes into the preparation of this hair mask. Mix a handful of hibiscus leaves and curry leaves; with the help of a grinder mashes them up to a soft consistency paste is formed.
Oil your hair with coconut oil or castor oil and then apply the hibiscus mask to your hair. You should rinse the hair with water and mild shampoo 1 hour after the mask is set on the hair. It is important to repeat this treatment twice or thrice a week for good hair growth results.
Tips On How To Thicken Your Hair Instantly
You can add thickness and volume to your hair instantly through simple cosmetic remedies for hair. Here are the most common and easiest treatments for making your hair thick and bouncy:
Use Dry Shampoo
You can instantly increase the volume by spraying a little dry shampoo along your hair roots and then massaging your hair and scalp for 2-3 minutes.
Use Hair Extensions
You can make your hair thick by fixing a good quality hair extension to your hair; it should be done by an experienced hair-care professional who can give it a natural appearance.
Use Thickening Shampoo And Conditioner
The easiest way to add volume and thickness to hair is by using hair-thickening shampoo and conditioner.
Use A Ceramic Brush
Using a ceramic barrel brush while you blow-dry your hair post-shower can make your hair appear thicker and more bouncy.
Color In Your Scalp
If your scalp is getting exposed because of the thin hair, you can resolve it by coloring in your scalp. For coloring, the scalp, use a medium eyeshadow brush and eyeshadow the same color as your hair.
Use A Root Lifter Treatment
The flat hairs can be instantly made to appear bouncy and thick in volume by using a root lift styling spray.
Teasing Your Hair Roots
If you have the type of hair that always falls flat and thin, use a clean, brand new toothbrush to tease it gently at the roots; teasing instantly makes the hair appear thick and bouncy.
Keep Your Hair Short Up to Shoulder Or Above
Thin or fine hair that's very long can look stringy and even thinner as the long hair weighs down a lot. If you have thin hair, keeping it short above the shoulder or medium-length crop cut hairstyles (like Princess Diana Hair Style) would make your hair appear more thick and full.